Bunny Tracks
This past week, we've had some crazy weather where I live. One minute, we had snow & ice on the ground, and then, in a matter of days, we had beautiful 75 degree, sunshiny splendor. Those warm days definitely make me feel like spring is right around the corner, and when I think of spring, I think of Easter! I've got a 3 year old who is already MAJORLY excited to hunt some eggs, so it should come as no surprise when you see the theme of this week's kit.
You can
pick up the kit
or
card pack
separately or grab them
together in the bundle
for a sweet discount!
How about some sample layouts to get those creative juices flowing? Remember that you can check out the
facebook album
for this kit to see even more!
Limited Time Grab Bag Offer
A note from Robin regarding a very special grab bag that we've put together...
Finally, as I mentioned earlier, I have an extra sweet project to share with you guys tonight that's near and dear to my heart. As you guys know, in the midst of the excitement of our Birthday Celebration last month, we completely overhauled our shopping cart and server. What you didn't know is that at the time, our servers were being DOS attacked by thousands of IP addresses in China which nearly brought our business to a standstill. I had to make an on the spot decision to upgrade everything to protect our business, and while it was incredibly stressful, the upgrades have been amazing, and I think you guys will agree that the shoppe is more beautiful and functional than ever!
All of that said, the entire process was completely unexpected and very costly for me, so our amazing team of designers voluntarily stepped up to create the ultimate grab bag as a fundraiser for our home on the web!
Home is Where the Art is
, is an absolutely stunning collection of products which all coordinate together to provide a scrapping experience that's perfect for your favorite memories…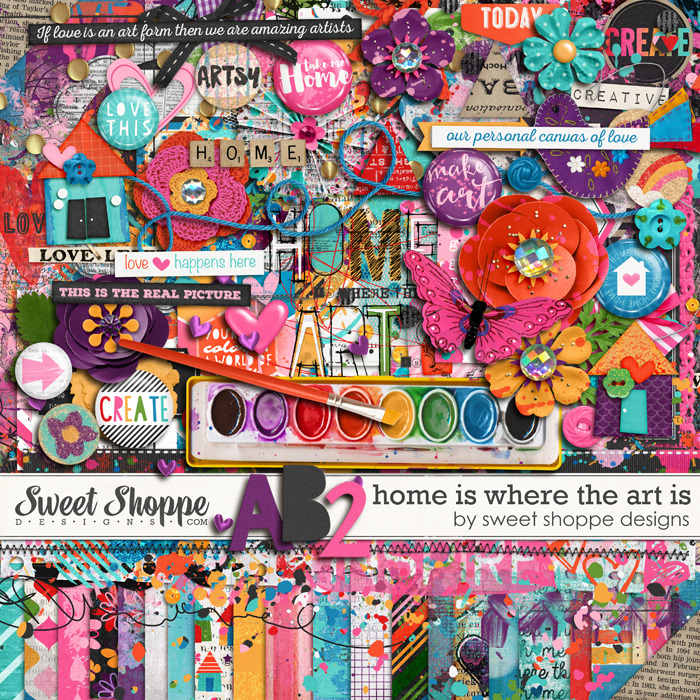 While that preview is stunning, it doesn't begin to show you just how gigantic this collection is. There are 25 individual packs in all and you can see each pack along with some beautiful inspiration from our Babes right on the
product page
! Home is Where the Art is just $10, and it will be available throughout the remainder of March. These products will never be sold individually, so we hope you'll show your support for our home on the web by picking up this amazing collection before it is gone for good. Each and every purchase is truly appreciated.