Hi everyone! Judie (HeyJude) here to bring you a new digi-scrapping tutorial about creating your own unique sticker elements. The screen shots in this tutorial are from PhotoShop Elements 7, but the instructions should be fairly uniform from one Elements Version to another. This particular tutorial was inspired by one of my recent layouts - Rock Stars Unplugged (created with Libby and Meg's awesome new collab
Don't Stop Believing
):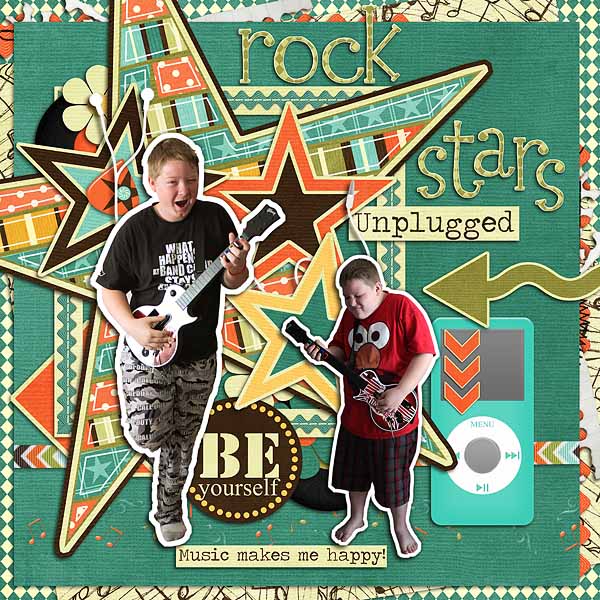 Notice how the two extracted photos look like stickers? This effect is actually very easy to create - and it works on all types of elements, not just extracted photos. For example, you can make your own word art stickers by using this technique on a thick font.
To achieve this sticker effect, just follow these steps:

1. Activate the layer your element is on, then hit ctrl/cmd while clicking on the layer thumbnail. This will create a selection in the shape of the element, which is indicated by the "marching ants" surrounding it.





2. Now go to Select/Modify/Expand and enter the size of the white outline (I used 20 pixels for the extractions in my layout). After you enter the size, you should notice that the marching ant outline expands just a bit.





3. Now create a layer below the element by hitting Ctrl/Cmd and clicking the New Layer icon at the top of the layers palette (NOTE: This button may be in a different location in other versions of PSE).




4. Activate the new layer and use the paint bucket tool (on the left side menu) to fill it with the color you want the outline to be (white usually works best for an authentic sticker effect). Once you have filled the selection layer with color, you will see the outline effect around your element. If you are happy with the look, simply merge the two layers together to finish it off. If not, you can experiment with different colors on the sticker layer or even use it as a clipping mask and attach paper to it.





5. You can also achieve this effect by using the stroke command under the Edit menu at the top of the screen. I prefer the selection method, because it allows me to use the sticker outline as a mask if I want to add texture or color variation to the sticker layer. The stroke option only allows you to add flat color to that layer. However, if you just want a flat white (or other color) outline, either method will work fine.

To use the stroke method, simply choose that option under the Edit menu at the top of the screen, then set the desired thickness and make sure "Outside" is selected under the Location section.



6. To create a word sticker using this technique, type out the word or phrase you want, then simplify the layer by right clicking on it and choosing "Simplify" in the options menu that pops up. Once the layer is simplified, treat it as an element and use the instructions for either method, as listed above.

I hope you have fun with this technique - can't wait to see your pages in the Gallery!

~ Judie (HeyJude)