Woot! In honor of my own birthday this week and SSD's month long festivities, I have a huge opportunity for you guys!
Take a look at the following clues and figure out which products we're referring to. Read the clues carefully. Sometimes I'm looking for a kit name, and other times I want you to name a specific element in a kit. There are 20 questions. Those with the highest number of correct responses will be entered into a random drawing. Wanna know what you're playing for?
1 Grand Prize winner will receive a $10 coupon to my store and *all* of my new releases for the rest of February (starting Feb 21) and all of March BEFORE they hit the store!

5 Runners-up will receive a $5 coupon to my store
So what are you waiting for? Take a peek through
my shoppe
and answer the following questions.
IMPORTANT
Do not post your answers in this thread. All responses need to be emailed to
libbyloucrew@gmail.com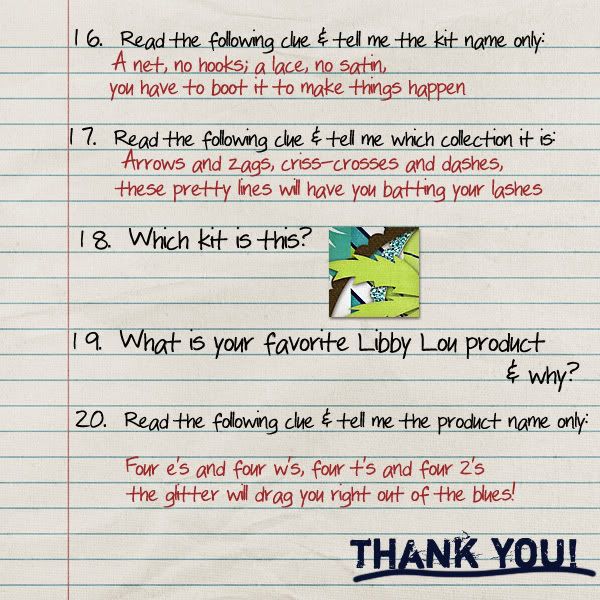 BONUS
This part is completely optional. You do NOT have to answer this question to be eligible for the prize.
Anyone who knows me knows that I love silly kit names. The more unusual the better! Send me your favorite silly kit name suggestion. If I use your suggestion in a future kit, you will receive that kit for free!
DEADLINE
All entries must be sent in no later than midnight CST on Saturday night February 14th.
Any questions??? Good luck!!!